Welcome to our 7th Challenge here at 2 Crafty Critter Crazies. We're a monthly challenge; we have a sponsor each month and we choose a random winner on the last day of the month, then announce the winner at the same time as the next challenge goes live. Anything Goes in our challenges: cards, scrapbook pages, journals, fabric arts, mixed media, painting, needlepoint, tapestries, any other craft projects you might love!
We start a new challenge on the 1st of each month and end the day before the last day of the month.
However, we have one requirement for every project submitted in our challenges --

they MUST feature a creature!

Whether Furry, Feathered, Fantasy, Fairytale, Fins, Scaly, or Insect, there must be a critter
featured
and not just a teeny, tiny bug hidden in a corner somewhere. Sorry, if we can't see the critter as the obvious focus, it probably won't qualifry as an entry. :-D
You may enter as many other challenges as you like and you may enter our challenge up to 5 times per month but each entry must be a different project. We have a sponsor each month and we choose a random winner on the last day of the month, then announce the winner at the same time as the next challenge goes live.
We will also be inviting Guest Designers to join us each month so if you think you might be interested in being our Guest Designer in December, please add GD after your name or leave us a comment
on this post
saying you'd like to be a Guest Designer.

OK, let's get right to what you all want to know - our winner of the prize offered by

Fabrica Fantasy

for our September

challenge is: Nancy Brown

Congratulations, Nancy! Please email us at 2craftycrittercrazies(at)gmail(dot)com so that we can arrange to get your prize to you.

In addition, we've chosen Lisa Furbush to be our Guest Designer in November. She really does some great designs! Check out her blog by clicking on her name.
Before we go any further, we really want to welcome a new member to our team! Helen Niles has joined us and here's a bit about her:
My name is Helen and my blog is Made by Helen which you can find here. I live in the north west of Britain and work for a charity called Abbeyfield as an Activities Coordinator. I also teach card making classes part time for Little Claire Designs. I love stamping, using digi stamps, papers and my trusty Promarkers.

We're sponsored this month by MHK Designs

and here's a little bit about them.
MHK Designs is a shop filled with vintage and unique images plus
modern sentiments and digital papers. MHK Designs also has a challenge blog
and playing in the challenges will allow you the chance to win even more
MHK Designs sets. A browse through the shop will give you an insight
into the genre and quality of everything available.
MHK Designs gave this fun "Pet Puns" set to the DT and we all used images from it for our inspiration cards. This fabulous set will also be the prize this month plus a set of digital papers chosen by the winner.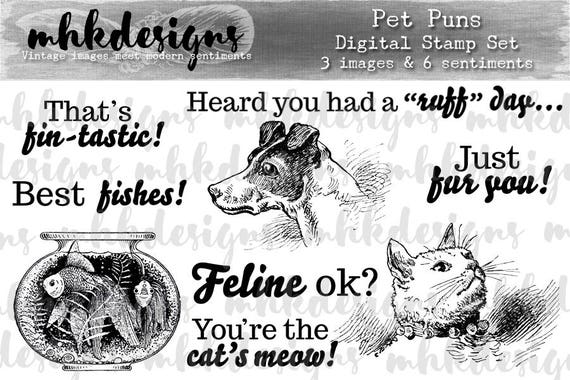 Here's a little inspiration from our team to encourage you and, this month, we are delighted to welcome our Guest Designer, Lori Kobular
.
Here's her fantastic card.
Lori using "Jack Russell from Pet Puns"
Angela
using "
Fish Bowl from
Pet Puns
"
Donna using "Fish Bowl from Pet Puns"
(Editor's Note: All this creativity from Donna while she was hunkered down, seeking safety from the worst of Hurricane Irma!)
Helen using "Cat from Pet Puns "
NanaConnie using "Cat from Pet Puns"
You have until 8 p.m. (Pacific time) on October 30 to enter your project.

If you'd like to be a future Guest Designer, don't forget to please tell us in a comment, or put GDT next to your name on your entry, or even send us an email (see sidebar for address.)
If you have any problems with the Inlinkz, please let us know by leaving a comment or sending us an email.