Welcome to 2 Crafty Critter Crazies and I hope you're going to be playing along with us in our first ever challenge! As it says in the Challenge Rules tab above, w
e're a true "Anything Goes" challenge so feel free to post not just your cards and scrapbook layouts, but your mixed media, recycled projects, paintings, crochet, knitting, sewing, fabric 'paintings,' quilting, whatever might strike your DIY fancy.
We start a new challenge on the 1st of each month and end the day before the last day of the month.
However, we have one requirement for every project submitted in our challenges --

they MUST feature a creature!

Whether Furry, Feathered, Fantasy, Fairytale, Fins, Scaly, or Insect, there must be a critter featured and not just a teeny, tiny bug hidden in a corner somewhere. :-D
You may enter as many other challenges as you like and y
ou may enter our challenge up to 5 times per month but each entry must be a different project.
We have a sponsor each month and we choose a random winner on the last day of the month, then announce the winner at the same time as the next challenge goes live.
We will also be inviting Guest Designers to join us each month so if you think you might be interested in being our Guest Designer in June, please add GD after your name or leave us a comment on this post.
So, let me start by telling you something about our sponsor for this month. Our first sponsor is
MHK Designs
and they are offering a complete set of images and sentiments as the prize, plus a set of digital papers! The adorable "Hoppy Bunny" set used by our team is the prize and the digital paper set will be one of winner's own choice. Here's some additional information about our fabulous sponsor:
MHK Designs is a shop filled with vintage and unique images plus
modern sentiments and digital papers. MHK Designs also has a challenge blog
and playing in the challenges will allow you the chance to win even more
MHK Designs sets. A browse through the shop will give you an insight
into the genre and quality of everything available.
Let's get started with the challenge, shall we? You have until 8 p.m. (Pacific Time) on April 29 to enter your projects. In the meantime, here are projects from the team which we hope will inspire you.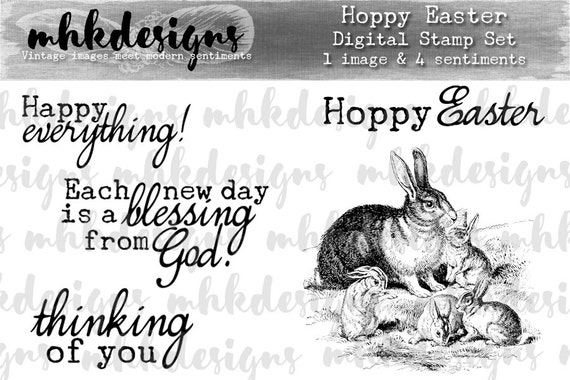 Angela using "Hoppy Bunny"
with fabulous coloring!
NanaConnie
using "Hoppy Bunny"
with a Mother's Day sentiment.
Teresa
using "Hoppy Bunny"
for a birthday card.
If you'd like to be a future Guest Designer with us, please put GDT next to your name on your entry or leave us a comment, telling us and giving us your contact information.