Welcome to our 30th Challenge here at 2 Crafty Critter Crazies. Please don't forget to check our rules. Thanks!
Also, remember that we now have all our Winners and DT favorites posted in a separate post and on the Winners tab at the top of the blog.
Now, our September Challenge!
We're sponsored this month by
QKR Stampede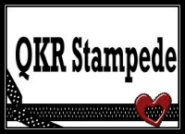 Here's a little inspiration from our team to encourage you
.
NanaConnie
using
"Beaver"
You have until 8 p.m. (Pacific time) o
n
September
25
to enter your project.

If you have any problems with the Inlinkz, please leave us a comment or send an email and let us know.